2-year Associate degree or Bachelor's degree (or equivalent level of technical training and
related construction experience).

10+ years of construction/project management experience required.

Deep knowledge of construction, pre-construction, design, finance, and project management.

Ability to effectively train, coach, and mentor others.

Demonstrates a solid understanding of key functional areas including: business development,




pre-construction, means and methods, project planning and scheduling, cost reporting, and




budgeting.

Strong verbal and written communication skills.

Outstanding organizational skills.

Ability to influence others.

Strong negotiation skills.

Reputation of being approachable, respectful, and easy to work with.

Courteous, professional, diplomatic, and highly motivated.

Anticipates and adjusts to changing priorities and methods; willingly takes on new tasks and




challenges.

Excellent MS Office and Google Suite skills and ability/desire to learn new software systems.

Must obtain OSHA-30 certification within six (6) months from date of hire (if not already




certified).
About Egan
From general contractors and architects to building owners and facility engineers, Egan collaborates throughout the entire construction or project process with the shared goal of maintaining best-in-class relationships with our internal teams, customers, and business partners. At nearly 1,000 employees occupying our offices and work-sites, we aim to ensure every project is done with quality craftsmanship, integrity, and an aggressive commitment to safety. In fact, we're proud to be recently recognized as one of America's Safest Companies.
In 2017, Egan was also recognized as a Star Tribune Top Workplace. We provide in-house expertise in planning, design, engineering, construction, and maintenance by representing over 15 skilled trade unions serving virtually every infrastructure discipline in the industry.
Why do our employees choose Egan Company? Watch this quick 2 minute video to learn more!
Why Work Here?
Egan earned a spot in the Star Tribune's 100 Top Workplaces in 2017. Egan also won the 2014 award for America's Safest Companies and continues to prioritize its safety efforts for all of its employees.
Egan has a solid performance history, an excellent and stimulating working environment, premium health insurance, vision, identity and legal benefits, 401k match & profit sharing, discretionary bonus potential, an on-site fitness facility, and many more great benefits. Visit our website to learn more!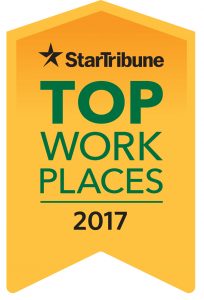 Additional Information
Egan Company is an equal opportunity employer. All qualified applicants will receive consideration for employment without regard to race, color, creed, religion, national origin, sex, sexual orientation, disability, age, marital status, status with regard to public assistance, protected veteran status, familial status, or other characteristic protected by law.
Application Instructions and Employment Practices

We do not accept application materials by mail or email except as a reasonable accommodation for qualified disabled applicants. Individuals who are unable to use our on-line process due to a disability should e-mail recruiting@eganco.com.
Egan is committed to creating and maintaining a safe and drug-free working environment. Employment with Egan requires successful completion of a pre-employment substance abuse testing and a background check. Egan Company participates in E-Verify.